( 1 Vote )
In a day and age with Robot artists who play 300 shows a year to hundreds of millions of people but don't write songs of their own! One must really thing to themselves is winning in the Music business all about who's the hottest Karaoke singer? Major record labels are making billions off those that can't even write one popular song!
When you think about it with the average serious songwriter writing thousands of thousands there's an abundance of hit tunes ready to go! Money to invest! The label is ready to go all that's needed is the perfect face and voice that's young, exciting and most of all will listen! Is it really like this in the real world? Kinda crazy to imagine that if you attractive and really can sing you too could be the next legend of tomorrow!
So the cookie cutter bands and artists that do what ever's popular! These types are whatever the Industry wants them to be, kissing the ass of any rep who will make them a star. They listen to every word of whom ever it is they must listen to. They have no set of balls, no spine, no soul and no sense of understanding of who they are as musicians but is this the truth?
Truth is Business and Music at times really don't and should never be mixed! A true musician Must no matter what connect with their instrument! An artist must perform and connect with it's fans and audience.
No matter if the musician is a billionaire, homeless, works two jobs or is barley making it! A true musician must do music and will! They will be in a band, write songs, kick some ass on stage but then comes the ego! Yup, the ego, the musician ego that say's I want to be the best! I want to be admired, desired, respected!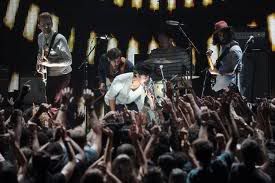 Are you confused? Well hold on it get's worse! Then throw hot woman into the mix! Hot woman who would normally never look at the musician unless he has a two foot penis and ten million dollars in the bank! Now do you have the picture?
The war rages on when pundits, fans, critics, the media, conservative groups, and the men in black come into play! Yup, the men in suites that is! The parasitic slim that hold their hands out reminding the artist of the contract they signed that gave the record label their publishing for the rights to be the biggest and the best! To remind the artist of the recording costs, marketing, promoting the records! The producer, legal teams involved, security, tour crew and 100 other folks that all have their hands out like Mc hammers crew on Red bulls wanting one thing! Money! Mean green! Cash! Cha CHING! That's right 90% of the time these people could give a shit about the artist just show me the money! Can you blame them?
When it comes down to it isn't your family and those you love number one in your life? Isn't a place to live part of that? Well don't be fooled many executive types in the Entertainment field have a vested interest in controlling the industry but why? Hum maybe it's the Million dollars they made! That's right you can make a shit load of money in the music business but how?
This is where your degree comes in or your expertise but what is the goal of the Majors? It's simple really! To provide you with a solution that 99.9% of any artist can never find! From there you give away your rights, your freedom, your sense of being! Yup, even what the hell you wish to play!
I would personally barf if someone told me what to play! I might as well join a cover band if I had to sit down listen to some Jack Rabbit teach me my up and coming album! What joy is there in that! Yet again, it's money! If you don't do what we wish then we will simply check out the list of people we have on our list! That's the motivating factor is fear! Fear that you just fucked up! That you will never have another shot for greatness again! Isn't that sad! Should a lack of confidence make you so easily controlled?
So the debate continues on as Indie artist say what they want, do what they want and more often than Not make a dollar or two. The Major artist write songs, get to be on the videos, bang line fulls groupies and played to pack shows but 90% of the time end up in debt Or worse!
The trick here is the word "Sophistication" Most true artist that have the talent, the voice, the looks, the persona! May lack the business zen or legal team to set themselves up with a win, win win for their future. There are musicians guilds, unions and many other resources out there available to those that may need them but having said this why does the debate live on?
The debate lives on because it's personal! Very personal! In fact the top musicians can take an American Idol winner and turn it into a Platinum selling album! Case and point Daughty who's looks, voice and talent meshed with the record labels resources sold millions upon millions of tickets and albums seemingly over night! Eddie Veddar was another break out star who crossed paths with a friend of friend of the band Mother love bone in a twist of fate conceiving Pearl Jam. From that again Millions of albums, label revenue and world wide dominance was born!
I could go on and on how a mega talent, mixed with the right band/label/producer can create billions! Alanis Morissette made her label billions when you could the gross income from her ticket sales, publishing, album sales! So my point is this and it's a strange point! Is there really such a thing as a Non rock star star? I know that sounds odd at first but thing about this! In the porn industry there are many Porn Actors but few Porn stars! So in the entertainment industry can you be in the public eye yet still be in the shadows, going nowhere, and considered NOT A ROCKSTAR!
Yes I know smoke is coming out of my head as well! Truth is out of 100 stars in a given label a handful of the labels artists will make 90% of the gross revenue over the years and everyone involved knows it! If you are band a called "Purple Luch box" and you've struggled to sell 400,000 copies of your album and you can't pack a venue of 500! Your label may wish to attend to Micheal Jackson who exceeds your bands net worth 1,000 times over alive or dead.
So this is big business! The entertainment world is serious business! Branding, investing, managing and shaping the careers of artists is all Big business. So as Indie bands turn on the radio and rip on Major bands playing follow the leader! As big bands take a long hit of a joint and bang hot 20 year olds with perky tits and could care less if the sky is falling or what the fuck is happening around them! As the divide between the two sides widens one thing is brutally clear to me as I write this article!
Some truths will never change and Like burger kind allegedly sorta said! You can't have it your way, or some shit like that! Can't have it any way you want it, man I don't know! Yup, I don't know is right, I'm not sure if I'm coming or going actually on the topic of Majors vs Indie but one thing I do know for sure is! I love music, I will do it if I'm rich or poor and nobody will tell me or any band I'm in what the fuck we are going to play ever!
That's me, that's my feeling about the entire situation! I think there's plenty of room to write a cool, happening album without pulling your pants down completely! I'm not saying working with a producer is good or bad! In fact I'm saying it's a great thing! Producers have made hit's since the advent of the radio! What I'm envisioning is a world where an artist can write a killer album, work with everyone involved and fully believe in the album they promoting! Is that allot to ask for?
The talk about groupies is interesting! Many stars will openly tell you they are into the music for the woman! Sure the music brought them to the game but who can blame anyone when the worlds hottest woman throw themselves at you because of your artist allure! Life must be more than sex, must be more than fame or catching a good high but is it? Does anyone still care about the music? Is it all really about a bigger house, faster car, hotter piece of arm candy?
What do you think? I don't normally wake up so charged up but being involved with bands, artists, management of bands and the like you absorb allot of the under current of what's really going on! What do you think is going on with the music industry? Do you think the Majors are still winning? Do you think the major corporations that own the radio, cable and internet networks are thriving or hurting?
Whatever the future of the music industry is for most the more things change the more they stay the same! With ticket prices higher than they've ever been! With Tee shirts being sold for tickets were not too many years ago one's left to think a primal Question? Who's making all this money from the tickets, touring, merchandise, International publishing rights etc! The truth is just like a Casino those who own the entertainment industry wouldn't do it unless they could control it and make a killing from it!
So the war rages on, what's better Being Independent or Going with a Major! What's your thoughts on this? To not confuse things further I avoided the downloading war that's been fought for over a decade now! The everything free culture of the web or the behind the scenes war to own the web by the worlds wealthiest folks. Regardless of the twists and turns the more things change the more they stay the same but one question will still remain!
What's better to be if you could have it your way an Indie artist or Rock star what would you choose?