( 0 Votes )
We are not in love with the people in this video. I think they try, they do an ok job But there was a lacking of news on the subject and well They are talking about it so I showcased their video.
The porn industry must use protection now, Yup this means Condoms. I don't see this flying well for an industry that has over 10,000 specialty niches that I won't go into depth about but i'm sure you can see how a condom won't work for half the scenes that are the norm in the industry. So it looks like the Mayor of L/A Mayor Antonio Villaraigosa has drawn a line in the sand and I'm sure California will now be without the tax income from the porn business.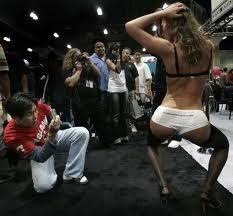 This law will take effect 41 days from now or so from the outside view this is just a story but the Backlash from it will be a lighting rod! The porn industry is way bigger than Hollywood because it does 10,000 films or so a year where Hollywood does only so many films. I don't have exact on financials but sex does sell and it's a crap load of money.
AIDS Healthcare Foundation, which lobbied for years for such a law is excited over the ruling and it brings up some interesting points about the public, laws, and what a city can or cannot do. For starters They are shooting a movie and in a way doing so with a permit. For starters this is California and I'm sure there are departments that govern this type of industry due to health concerns, monitoring, and countless other ramifications. My question is this! Half of all porn is shot by amateurs who are holding a camera, drinking, banging and uploading it online! Is there going to be a law forcing those people to wear condoms? Is there going to be a national law that say's if you are making money from sex you must wear protection!
The industry requires that actors be tested for HIV every 30 days, and filmmakers plead the case that is enough stating "It's not that I don't doubt the sincerity of their desire to protect the talent. And believe it or not, we have the same ambition," Christian Mann, general manager of Evil Angel Productions, said last week after the council's vote.
So what happens is rubber breaks will there be a fee or fine for that just saying? Sex can be a full time sport so breaking of rubbers happens ask anyone who's single! "We just don't believe their way is the best way," added Mann, who is also on the board of directors of the industry trade group the Free Speech Coalition.
I'm not done with this thought here and what about the people that shoot films at home for their own use and fun! Will this law effect them if the video leaks? What quantifies a porn film? Forcing you to wear protection I get it, prevents AIDS and other disease. Why now? Why all of a sudden the shift in law? Is this a good thing or our freedom's being bought and sold by those who lobby for their agenda's? Interesting question and we would love to hear from ya about this one!
Most laws are shot in the city's suburban San Fernando Valley and the group swears to pass this everywhere which seems inevitable! This law doesn't effect oral sex scenes but it's a death blow to the relationship between California and Porn because half the films the views are looking for specific things ( I know gross ) and pressure from free downloading sites, amateurs and foreign company's gaining traction since all these need is Internet access, a camera and working girl and you are in Business.
So as California is falling apart, can't pay bills, this must be a perfect time to run business out of the state! Sounds like some other state I know that chased the film industry away for no reason. Well I think the city will be left holding the condoms on this one. Think they will be the one left after being screwed by the porn industry i.e. after they move, leave, say see ya! There is no incentive to say in L/A now for them, sure there is the Help which of course they are mega talented the film industry there is an invaluable resource but if you have a hot chick banging some dude and that's your end product I'm sure they could shoot this anywhere. I must admit it will be odd when Iceland complains about those damn American Porn stars and all the films they are shooting around town!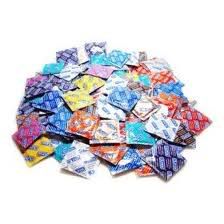 So how does this effect rights of people? Each city has rights to make it's own laws to keep the peace or to protect the citizens of the city but what do you think? Has this gone to far or is it about time? This will be a story to watch as L/A Swings and misses with this one horribly! This is now the worst blunder ever by a ranking official ever! It's equal to taking the baseball of of the game of baseball the porn business is now gone from L/A I thought nothing would top Michigan who got hit hardest chasing film jobs away when they took away film incentives which were working. The actions by this mayor are incredible, the lack of logic is alarming! His heart was in the right place and it's good to protect people but they didn't exhaust other more viable options such as testing every 10 days and increasing fee's a little if the city really needed more protection for actors and fee's to regulate the industry. Never the less if this law spreads across the nation is will be interesting to see if everyone must wear a condom if on film! I wonder what the jail time will be if you don't suite up! How will they clamp down on 1 billion porn films uploaded by random strangers per day! I guess they will put on a superman suite and get it done which I highly doubt!
What will happen to other porn tapes out there that the stars leaked? Will they go to jail if they don't wear protection? What is the positions you are using make it hard or impossible to see if you are wearing a condom? They do have skin colored condoms, anyways this story is approaching creepy but it does relate to rocking in a free world! The rights of people are eroding faster than we realize and pretty soon that hot video of you and your X that somehow you lost and she placed on the internet to piss your girlfriend off may land your ass in jail because you failed to suite up!
What's your thoughts? Should everyone be forced to wear condoms? Do you think it's a good think that the porn industry just in L/A wears condoms while the entire planet laughs at them? What's on your mind because I'm running out of shit to say about all of this to be blunt!